Dr. Riaz Malik
Executive Director NCS University System Swabi Campus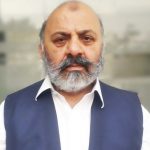 Welcome to NCS University System, Swabi Campus!
I, Dr. Riaz Malik, am privileged and thrilled to have the opportunity to follow the Chairman Akhunzada Muhammad Amin Maini footsteps and serve as your new Executive Director of NCS University System Swabi Campus.
NCS University System Swabi Campus, just like its ancestor NCS University System Peshawar (the Main Campus), has earned name and reputation in short span of time. With its batch 01 of Doctor of Physical Therapy (the mainstream program) in 2015, it started its journey of success and prestige. Currently we've three batches of DPT, which not only shows trust of the accreditation bodies but the affiliating University that is Khyber Medical University and the community. NCS Swabi is attached with Bacha Khan Medical Complex Swabi (Shah Mansoor) and Chal Foundation for its clinical Practice.
NCS is an organization of actions, a community of engaged professionals who create, pursue, perform and achieve in support of the institution's mission and vision.
I encourage you to explore all that NCS has to offer. Again I welcome you to the NCS Education System and look forward to meeting you. I hope your time on the campus will be excited and meaningful.