Prof. Dr. Zia Ul Haq
Vice Chancellor
Khyber Medical University, Peshawar.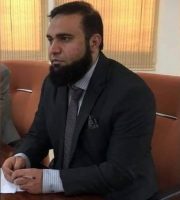 NCS University System a private sector affiliated institution of Khyber Medical University in the fields of Physiotherapy, Medical Lab Technology and Dental Technology at Peshawar. It's a new private sector educational institution showing commitment to growth and establishment of a standard allied Health institution at Peshawar.
The gape regarding the requirement of allied Health personnel is widening day by day and needs to be addressed in order to support the Health care delivery system in a professional manner.
The provincial government has prioritized both educational and Health sector of the province and is heavily investing in it but public sector alone cannot to cater the requirements of Khyber Pakhtunkhwa. The private sector needs to be encouraged and supported to play its due role in the field of allied Health sciences education in order to meet the growing demand of the population.
NCS University System, department of Health sciences should provide conducive environment to both the faculty and students so that it not only flourishes as an academic institution but also sustain the trust of public and regulatory bodies. The institution is advised to make sure that the students actively participate in co-curricular activities as well.
I hope NCS University System will continue its journey with commitment and zeal in order to achieve the aims and objectives of the Government and Khyber Medical University in letter and spirit.